VI Luxury Charters currently operates a 77-foot catamaran located in the Caribbean and Bahamas.
We sail to some of the area's most beautiful destinations including: Norman Island, Cooper Island, the baths on Virgin Gorda, the Bitter End Yacht Club, Cow Wreck Beach, Peter Island and Jost Van Dyke to name a few in the Caribbean.  In the Bahamas,  our favorite coral-based archipelago in the Atlantic Ocean—with its 700-plus islands and cays. The northernmost, Grand Bahama, and Paradise Island are among the best known. Exclusive scuba diving and snorkeling sites include the massive Andros Barrier Reef, Thunderball Grotto (used in James Bond films) and the black-coral gardens off Bimini.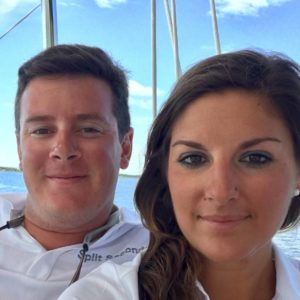 Captain Jon is an "old-salt" at heart, growing up off the coast of Maine and New Hampshire working in the marine industry. He is a fully documented and certified US Coast Guard (USCG) Captain, with a 100 Ton Near Coastal Masters License and RYA (Royal Yachting Association) Yachtmaster Offshore (200T) w/ commercial and sailing endorsements.  In addition, he is a trained emergency medical technician (EMT).
He developed a genuine love for the ocean and boats at an early age. Early on he attended New England Maritime and was accredited with his USCG Masters Captain license and became Scuba certified. Some of his earliest nautical working experiences were on boats in the Caribbean island of St. Maarten and the greater Boston Harbor areas, as well as yacht club management and boat tendering primarily based out of southern Maine. Founder of A Captain's Touch (ACT) Yacht Management company, servicing Maine and surrounding areas, and captaining Luxury Catamaran Charters in the Caribbean. In addition, graduated from the Maine Fire Academy and is a certified Call Force Firefighter and Emergency Medical Services volunteer. He takes great pride in helping others, and has a real enthusiasm for boats and the firehouse community.
Kait, First Mate and Chef was raised in Kennebunk, Maine.  She spent most of her summers sailing the St. George River in Thomaston, Maine with her family.  Similar to Jon, Kait developed a great love for the ocean at an early age.  She graduated with a Bachelor of Arts in English from the University of Mary Washington, located in Fredericksburg, VA. — where, she played four years of collegiate lacrosse.  After graduation spent several years working in sales in Colorado and Maine.
Almost five years ago, Jon and Kait met at a local yacht club in Maine—and discovered their common love of the ocean life. Since then they have been sharing their passion for the open seas with others throughout the Caribbean.  Kait's ability to provide guests a luxury experience without the fuss is reflective of her own Maine roots. She provides custom menus made from locally sourced fresh foods that are prepared simply and to each guest's preference. Together they make an ideal team.
Jon and Kait were married in September, 2015 and will forever share their love for the ocean.